Moderator: Forum Administrators
I haven't been able to play WoW in a while since my good laptop got stolen and my game time ran out, and I've been looking everywhere for screenshots of a feral Tauren in the color that mine was, but I can't find many. So I'm requesting that someone change the color of their Tauren Druid for me and take screenshots in various locations for me.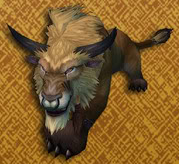 Thanks in advance!
---
Honored
Posts: 87
Joined: Sat Apr 23, 2011 12:57 pm
---
Thanks!
But I'm still looking for ones with a specific place so I can turn them into sigs and stuff.
---
tell me where you want me and I'll change my skin for you.
---
I hope these aren't too specific.
I would like one in I think it's Southern Wintergrasp, there's a lot of flowers and stuff there. /sleep emote in the flowers. Either Wintergrasp or Northern Twilight where all the dragons are.
I would like another in Ulduar so that you can see the sky/aurora and the cat.
/mountspecial would be nice, too
And then some dancing in a few random places of your choice would be cool, too.
Thanks again in advance.
---
---
Those are perfect! <3
Thanks!
---
I'm sorry but at the moment I don't have the original files with me, so here's the smaller versions. I adore that tauren skin and never was any other colour.
---
Who is online
Users browsing this forum: No registered users and 1 guest