Moderator: Forum Administrators
Hi y'all
Longtime lurker, occasional poster... Feral and loving it.
I hope no one here takes this amiss. I have no desire at all to take away from the fine work you guys do for the lesser of us fellow sociopaths... err kitties...
However, other than Antonys abbreviated list over at
Eao's Excursions
, I have yet to see a full one. So I made one myself. Based on what wowhead has in their database to date, its fairly complete, excepting locations of what drops where altho from the list it's fairly easy to figure out which are raid drops and which is the 5 man loot.
I used the default feral druid filter, but bumped up hit and exp to 34 each, if u care to recreate my results.
If anyone cares to check it out u can find it at
The Dragonslayers Ease
Thanks
---
Your list is rather incomplete, just by looking at the Weapon Section, considerring that a Polearm with a rather NASTY Equip Effect will be BiS from the last Deathwing Fight.
---
Thanks for checking it out Konungr, altho Im not sure what you are referring to. I am not on the PTR, and am going purely by what Wowhead has in its PTR database right now, as and when it's updated, I will update my list. The only things I left out (as stated at the top of the post) is PvP gear/weapons.
If you are referring to Kiril, Fury of Beasts... the normal Spire of Coagulated Globules is better given the stat weighting I used, which I explained also at the top of the post. Even if I reset that weighting to the default for feral DPS, it still comes out better. If the Spire has a proc effect too, its not something I am aware of.
---
You didn't say anything about Stat Weights, and regardless it wouldn't matter since Secondary stats are all the same and there is reforging available. The Kiril, Fury of Beasts will always have a higher iLvl, and therefore Weapon DPS, which is our most powerful stat, since it comes from the End Boss of the tier. Not to mention that Kiril has a proc that is going to be insane for DPS. I'm still waiting for a new version of Mew that supports the procs from Kiril, Fury of Beasts to see if the Proc alone is enough to outshine the slight jump in iLvl, such as using Normal Kiril over Heroic Spire.

Kiril, Fury of Beasts
2629 - 3945 Damage Speed 3.50
(939.2 damage per second)
+514 Agility
+772 Stamina
Item Level 403
Equip: Your melee and ranged attacks have a chance to trigger Fury of the Beast, granting 107 Agility and 10% increased size every 1 sec. This effect stacks a maximum of 10 times and lasts 20 sec.

Spire of Coagulated Globules
1918 - 2878 Damage Speed 2.70
(888.2 damage per second)
+466 Agility
+730 Stamina
Red Socket
Socket Bonus: +10 Agility
Item Level 397
Equip: Increases your hit rating by 234 (1.95% @ L85).
Equip: Increases your mastery rating by 362 (2.02 @ L85).

I'm almost certain without a doubt that Kiril will come out on top.
---
Just the proc alone (depending on ICD I guess, but hopefully devs are smart enough to not give crap ICDs) should push the DW weapon over the other weapon, I mean you're comparing the primary stat of agil to secondary hit/mastery, almost a no-brainer to opt for the agil proc. Not to mention you turn into a giant kitty, not as good as fire admittedly, but still...giant kitty!

Not sure what model it will use, but if it's ugly, it does also give us a reason to transmog the polearm into the ever badass hellreaver model from TBC.
---
Below is an attached pic of my Transmog set with a polearm. Sadly the Hellreaver doesn't fit well with it.
Attachments

Polearm Transmog.jpg (22.86 KiB) Viewed 4803 times
---
Yeah, Scythe models are always nice. Polearms in general seem to be the oddballs, they rarely make an appearance and there aren't that many great ones out there.

Have you considered the Sonic Spear (nice icy blue) btw? It's a drop off Murmur, might be nice and at least it doesn't make it look like you run around with a generic 365 lol.
---
I see your point.
I have revisited my weighting in light of this, and I have to say, it still doesnt change the result.
From my post:
A few assumptions here… I am assuming that the secondary stat priorities aren't going to change much for 4.3. As such this list is biased slightly in favour of capping hit and expertise, with Mastery , Haste and Crit following closely.
So, this is the default preset for stat weighting on Wowhead...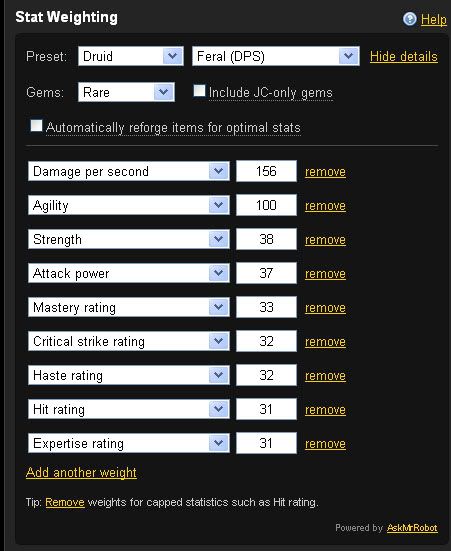 which yielded this result

The weighting I used to make up the list was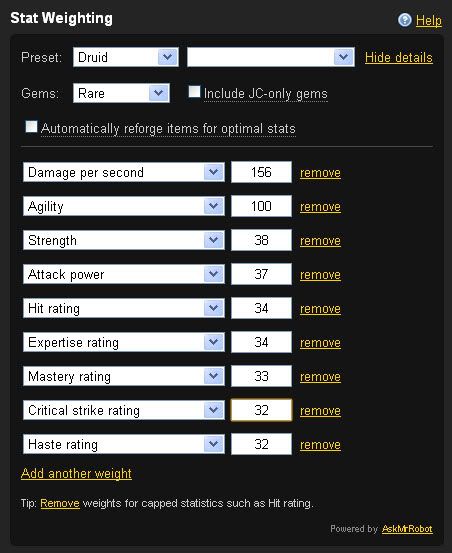 which yielded

As you can see, what I did doesnt differ a whole lot from the default, but still yields the same result with quite a wide difference between the two items in question.
If I want to manipulate it further to obtain the result you believe correct, the way to do that is to change the top weighting from DPS to Max Damage which then places Kiril on top. However it also places both Heroic and normal Ranseurs above Spire so it cant be the proper way to analyse.
I do understand your reasoning, and I'm open to counter-arguments to my results. I do believe this analysis doesnt take procs of that sort into account so there is definitely some wriggle room, but I also think the total lack of secondary stats doesnt do Kiril enough justice to warrant a change as yet. Just on pure data analysis, I believe my list stands as is... for now
Time (and other gear) will tell I guess
---
Only problem is that WoWhead will not weight the effect of a Proc (therefore it will always look as though its just missing a crap load of secondary stats with no compensation in the form of a ~1k Agility proc that may be up the entire time like Fluid Death) , and that 1 Point of Weapon DPS is >6 Points of any Secondary Stat, and 1 Point of Agility is >3 of any Secondary Stat. So the weights should look more like:

Weapon DPS: 210
Agility: 110
Secondary Stats: ~30
---
I can't confirm this either way but you may find this to be of interest:
http://us.battle.net/wow/en/forum/topic/3530334661
The proc on the normal mode (403) version is worth 107*10*(9/2+10) = 15515 agility seconds, assuming the 20 second duration is not reset when a stack is applied (i.e. the total duration is 20 seconds and not 30) and assuming the first stack is applied after 1 second (and not 0). With a 60 second ICD and a 15% proc rate you might expect it to trigger every ~65 seconds on average, giving it an average value of ~239 agility.
---
Based on the latest Mew:

390 Kiril > 391 Fandrals = ~400 DPS
403 Kiril > 397 Spire = ~800 DPS
410 Spire > 403 Kiril = ~400 DPS
---
Mew is currently using a 50 second cooldown for Kiril, which may or may not be correct (the
hunters
say it's 60 seconds).
---
Just going to post something I did on my guild forums about this very topic, comparing the two heroic versions:
I've been seeing a lot of posts about Kiril being under-budget (all forms) compared to Spire... Some go as far to say that hKiril is worse than normal Spire.
Going by feral numbers, cus I don't honestly want to do this for all 3 of the specs for hunters:
If you take those values into account and use your typical RSWs: ~1.3 for secondary and ~3.7 for agi
277.6 Agi average on hKiril (581 base agi) = 3176.8 pp
675 secondary stats on hSpire (529 base agi + 1 red gem w/ 10 Agi bonus yields another 60 Agi [New agi gems are +50]) = 3056.8 pp
Not to mention that ilvl = higher base dps, and that's feral's highest priority, but this is kind of gearing towards hunters who's weapon dps doesn't mean shit.
Average proc based on: [http://elitistjerks.com/f74/t65904-hunter_dps_analyzer/p31/#post2038416]
Overall that's mathing out to:
Raid Finder's 390 Polearm Kiril, Fury of Beasts: proc averages out to 245.4 Agi (vs. Raid Finder's 384 Staff's secondary stats Spire of Coagulated Globules)
Normal's 403 Polearm Kiril, Fury of Beasts: proc averages out to 276.4 Agi (vs. Normal's 397 Staff's secondary stats Spire of Coagulated Globules)
Heroic's 416 Polearm Kiril, Fury of Beasts: proc averages out to 310.0 Agi (vs. Heroic's 410 Staff's secondary stats Spire of Coagulated Globules)
Well a little less since I didn't calculate the initial 15% proc chance, so maybe more like 219.8, 247.5, and 277.6
Looking at AskMrRobot, for feral (cat): hKiril is 1702.47pp higher than hSpire; for hunters: hKiril is 611.11pp for MM, 995.9pp for BM, and 776.8pp for Sur, higher than hSpire.
Oh, should post this to clear up for people who are used to some of the jargon:
pp = pseudo points, theoretical dps points
RSW = relative stat weights
If anyone can post, at least, the RSWs for each hunter spec, that'd be badass and would help clear up the issue so we can start getting BiS lists and whatnot in order.

So that's on the guild forums, now for the rest of the work to be feral specific:

MHdps yields a 6.6 RSW.

MHdps:
Spire = 888.1
hSpire = 1002.6
Kiril = 939.1
hKiril = 1060.1

Now, bring in the data from before and add to it:
hKiril
= 3176.8 pp + 6.6*1060.1 =
10173.46
hSpire
= 3056.8 pp + 6.6*1002.6 =
9673.96
Kiril
= (247.5+514)*3.7 + 6.6*939.1 =
9015.61
Spire
= 596*1.3+(466+50)*3.7 + 6.6*888.1 =
8545.46

The above would suggest that each in succession, of ilvl, would be an upgrade.
It's 106 mile to Chicago, we have a full tank of gas, a half a pack of cigarettes, it's dark, and we're wearing sunglasses... hit it!
---
Who is online
Users browsing this forum: No registered users and 1 guest