Moderator: Forum Administrators
I know there are a lot of experienced kitty's who read and actively contribute on fluiddruid, I don't really contribute much myself, but I am an active lurker. I had a hard time figuring out a good setup that I felt comfortable with, I'm really happy with what I have now but I'm always open to suggestions & improvements.
Feral relevant mods are BadKitty and Weakauras. I don't use Ovales any longer, but it was a very good tool early on and if you're new to feral I highly recommend picking up one of the scripts posted on the forums here. Those of you out there who also feel comfortable with your current setup post a screenshot! I'm curious myself to see what other competitive Druids are using.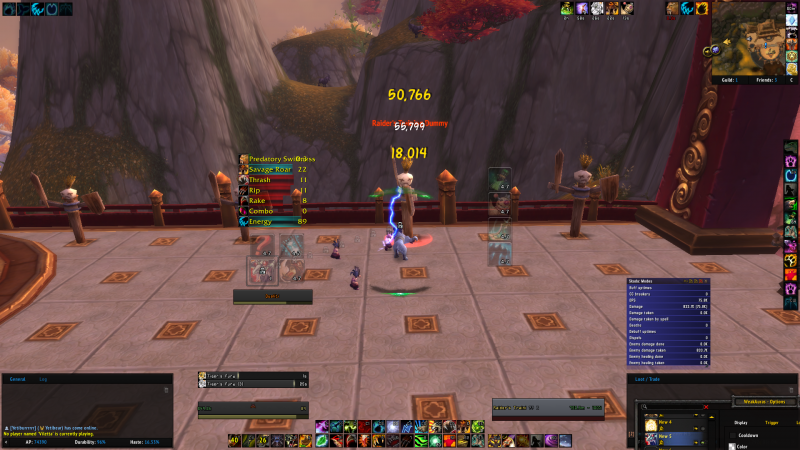 If anyone's interested I can post the strings for my Weakauras.
edit: The big red ? on the left side is Tiger's fury, the green up and green down bar in the center are my DoC tracker's. Pred Swiftness for up, DoC for down. Made tracking DoC HEAPS easier.
---
I use DroodFocus to track SR, Rip, Rake, Predatory Swiftness, energy, and when CD's are up. I use Ovale to help a bit with Clipping. I use WA to track both of my trinkets and all the ToT boss deadly abilities.
---
Did you check out the UI and Addons forum? We have a few very useful threads going there
-Sibylle

"Not a shred of evidence exists in favor of the idea that life is serious." (Brendan Gill)
---
Sibylle wrote:Did you check out the UI and Addons forum? We have a few very useful threads going there
I didn't, mostly because I didn't realize there was a UI and addons forum(lol). But I believe it's very relevant to DPS which is why I posted it here. Plus I'm curious to see what other competitive druids are running with. Screen shots please!
---
I just use Elv-Ui for unti frames/V-bars/Bleeds and weakauras for tracking trinkets/SR/Bleeds Percentages.
If you look to the right of my target you see red/gray/green numbers. Those track the power of potential bleeds i could put up at that moment. The Top on is Rip, middle is rake, and bottom is thrash. Very useful for deciding if i should refresh bleeds at that moment or if the ones i have on target are better. Picked that string up from Stenhaldi and modified it to my liking. Link to that thread :
viewtopic.php?f=11&t=4446
The 4x3 action bar on the right is for my razer naga buttons, that mouse has made things a lot easier for me for the past few years.
As you can see i don't have "timers" per-say in the form of bars that shrink over time or re-arrange according to what will fall off next, i'm personally not a fan of them because i think that they take up a little too much space and i like the traditional squares with a number countdown.
---
I'm going to give those scripts a try and see if it helps. I have a pretty good feel for my bleed strengths already but maybe I'll surprise myself.
---
Who is online
Users browsing this forum: Google Feedfetcher and 3 guests